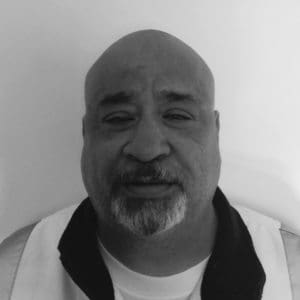 James Fresquez, Driver
Favorite quote:
"Say hello to my little friend"
–Scarface
Weirdest job I've ever had:
Making trash bags for PolyTech in the early 80's.  As weird as it sounds, the job at times required climbing to the top of the manufacturing spool.  Needless to say…..I'm not a huge fan of heights.
If I had to eat one meal every day for the rest of my life, it would be…
Beans and Green Chili.  It's a perfect meal for breakfast, lunch or dinner.
How I got into the roll-off business:
I followed in my fathers footsteps.  He worked in the industry for nearly 50 years and both my brother and I followed suit.  In total I've worked for at least six companies including Premier Disposal and 5280 Waste, which is where I met most of the people that I work with today at Blue Bear.