Residential Dumpster Rentals in Denver
Blue Bear Waste Services Has Residential Dumpster Rentals in Denver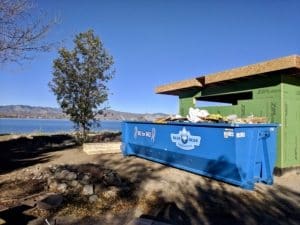 Blue Bear Waste Services is excited to offer residential dumpster rentals in Denver and surrounding areas. We partner with homeowners in a variety of service areas for dumpster rentals, recycling, and renovation cleanup. We are proud to provide Denver and Front Range homeowners with 12-yard, 20-yard, and 30-yard roll-off containers for the following needs:
Renovations & additions
Home improvement projects
Roof replacement
Landscape projects
Yard debris removal
Home garbage pick-up
Garage & basement cleanouts
Spring cleaning & decluttering
Disaster or storm cleanup
Moving & foreclosures
Neighborhood cleanups
Recycling projects
Call 720.500.5282 to Rent a Dumpster Today!
Blue Bear Waste Services is Denver's hometown team for dumpster rentals, providing a variety of roll off dumpster sizes to suit the unique requirements of your construction or cleanup project. Working behind the scenes to keep your job site safe, well maintained, and compliant with government and municipal regulations, we audit and manage your waste stream so you can focus on the tasks at hand.
Founded on over 10 years of roll-off experience, our partnerships with contractors and builders are rooted in trust. You are part of the Blue Bear family, and we're well acquainted with your account. Based upon your needs, we deliver and pick up on time, use progressive technologies to minimize environmental impact, and help you achieve green building milestones.
Frequently Asked Questions
Blue Bear Waste Services FAQs Common Answers About Denver Trash Service
Is Blue Bear Waste Services in my neighborhood?

Blue Bear Waste Services proudly serves much of the Front Range region. Click here to find a comprehensive list of our communities, or dial 720.500.5282 to schedule Denver trash service for your home, business or construction site.
Do you offer residential and commercial trash service?

We provide roll-off dumpster service to both residential and commercial customers. Commercial and construction site services include trash pick-up, roll-off rentals, LEED® consulting, special waste removal, and recycling. At this time we do not provide other waste and recycling services, such as weekly pickup or front-load service.
What dumpster size do I need?

Blue Bear Waste Services provides a versatile range of dumpsters from 12 to 30 yards. Your 12-yard container is suitable for small home improvements and renovations, spring and garage cleaning, small roofing jobs, and general house cleanup. 20-yard containers are used for kitchen and bathroom remodels, deck and patio tear-outs, major house and basement cleanup, mid-sized roofing projects, and small construction projects. 30-yard dumpsters accommodate larger deck, roof, or renovation projects, as well as many commercial projects. Please keep in mind that all containers have a maximum capacity of 10 tons. If you are disposing of a significant quantity of concrete, asphalt, dirt, brick or other heavy items, we recommend using a 12-yard container. To find out which container size is right for your needs, connect with our Denver trash service online or call 720.500.5282 now.
Blue Bear Waste Services does not dispose of items that are classified as "hazardous" by state or federal authorities, nor do we haul materials containing free liquids. Call 720.500.5282 for more information.