Are you looking for a dumpster to handle any medium-sized project? This dumpster is just right if you are working on a medium size project.  Blue Bear's 20 Yard Denver Dumpster Rentals  features a door that opens on the back for easy loading.
The 20-yard dumpster is not considered small in size, but great to larger home renovations or commercial projects.  This dumpster also features shorter side walls for ease of tossing items over the side.
20 Yard Dumpster Dimensions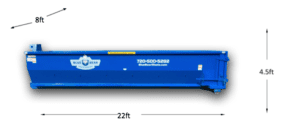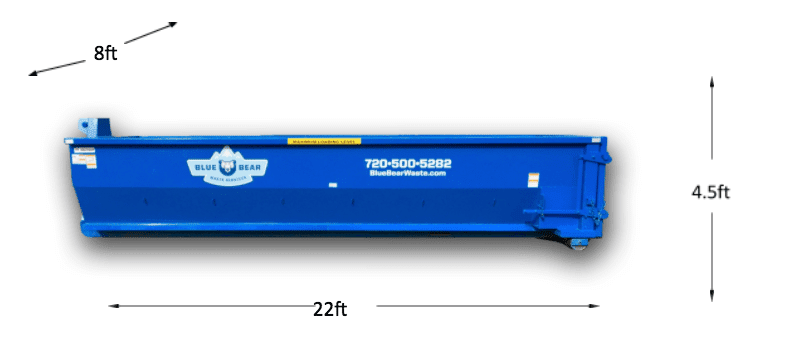 Is a 20 Yard Roll Off Dumpster right for your project?
20-yard dumpsters are versatile bins ideal for a wide variety of jobs. Best used for:

 Garage, basement and attic cleanout

 Downsizing your home

 Kitchen renovation

 Bathroom renovation

Disposing of construction debris such as lumber, drywall, and siding.

 Yard waste removal (medium yard)
How much can a 20-yard dumpster hold?
A 20- yard dumpster can hold 20 cubic yards of material, this is roughly 10 pickup truck loads of debris. Save time and money by eliminating the back and forth with your pickup truck and let us take care of the disposal.
Things to consider before you rent a 20-yard container dumpster.
Each dumpster can accommodate a max capacity of 10 tons.  Our rental agreement and price quote includes a standard 5-ton weight limit.   Each ton over 5 has an additional cost.  
Call and speak to an experienced Customer Service Representative today to get the current rate.
How long do you need your dumpster? Blue Bear will gladly give you pricing for a rental period based on the number of days that you need the container.
If you schedule any one of these three options and happen to need it longer there is a small daily charge until the dumpster is picked up.
By law, we cannot accept any toxic or hazardous waste, including paint, herbicides, pesticides, asbestos, chemicals, oil, tires, fuels, electronics, or appliances with Freon.
Types of 20 Yard Dumpsters
Blue Bear's trucks use a hook lift, which allows them to put a dumpster in tighter areas. We keep our dumpsters clean and professional looking by ensuring our dumpsters are clean and graffiti free.  We pride ourselves in clean and graffiti-free dumpsters.
20 Yard Dumpster Cost
Blue Bear Waste Services understands that every project is different.  Call and speak to an experienced Customer Service Representative today to get the pricing that is right for your job.
Start your Project Today
Are you looking to get started today? Our experienced and friendly staff with help you find the best dumpster for your project.
Give us a call at 720.500.5282 or click here to receive a quote for our services.