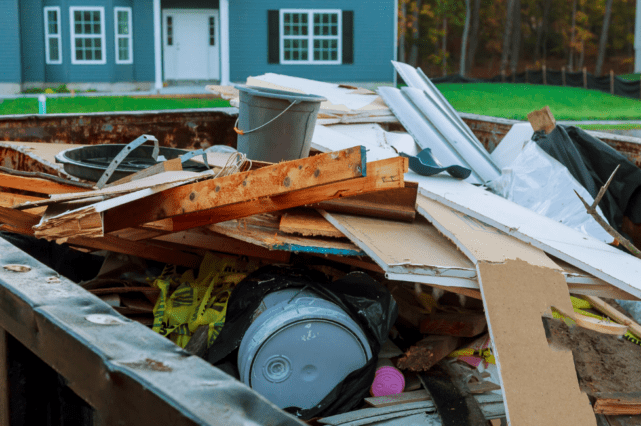 How to load a dumpster
The importance of knowing how to load a dumpster properly is an often overlooked, but important part of the dumpster rental process. Failing to load it properly can make the whole process difficult, more time-consuming, and less effective. Additionally, poor loading practices could lead to physical damages, safety issues, and unnecessary charge costs. 
But worry no more, if you get the right training, apply the right tips and strategies, you could avoid unsolicited situations.
Are you interested in knowing how to load a construction dumpster? Do you need tips on how to load a dumpster so that you can maximize ROI for your business? If yes, then keep on reading to get professional suggestions from industry experts. 
How to load a
dumpster th

e right way

It's obvious; the big-size items take more space than small-size items. So no matter whatever you're putting in a dumpster, break it into small, easy-to-load pieces. The smaller in size the items, the easier it would be to place in a dumpster. It will result in great value for the money.
Flatten All Cardboard Boxes
Bigger boxes will accumulate more space, so it's best to flatten them all. This way, it will take less space, consume less time, and save enough space for other items in the dumpster. You can use a box cutter for this task.
Simply cut them down in a way that turns them into the flattest state. But ensure the boxes get perfectly folded flattened, otherwise they could form pockets, consuming more space in the dumpster.
It's essential to fill all the empty gaps between items to save more space in a dumpster. The best way you could do this is, be attentive throughout your project and keep on checking for gaps.
Place Heavy Items At The Bottom
You would probably not be aware of each item's size and weight, but that doesn't mean you should keep on throwing items one after another. Use common sense, and take inventory of heavy, bigger in size items, and ensure you load them first, and then fill small items to load a dumpster.
Even Weight Distribution Matters the Most
Another pro tip for loading a dumpster is to distribute all items' weight evenly. Uneven distribution could lead to emergencies and accidents during transit. So make sure all loaded items are well-balanced in the dumpster.
Don't fill one side from the bottom to start each time; instead, focus on filling both rows simultaneously. Otherwise, it would lead to an unbearable mess.
Loading your rental dumpster too high to avoid another dumpster's round could result in item loss during transit, which you incur an extra charge for overfill. To avoid any additional fees, always break down items, fill empty gaps, and distribute weight equally to get the most out of your job. 
Heavy Items Make a Difference
Never overfill the dumpster with items like roofing or heavy material, like concrete, asphalt, etc…If you think your dumpster will be overloaded with heavy material, the best option is to get another dumpster. If the dumpster is overloaded, the rental company will not be able to pick it up. This will likely lead to additional fees, such as a trip charge.
Blue Bear Waste Services — Get Dumpster Rentals Now!
Are you looking for the most reliable and affordable dumpster rentals? Get in touch with Blue Bear Waste Services!
We have shared the top tips above on how to load a dumpster; if you need more help choosing the right size for your job, then get in touch with us!