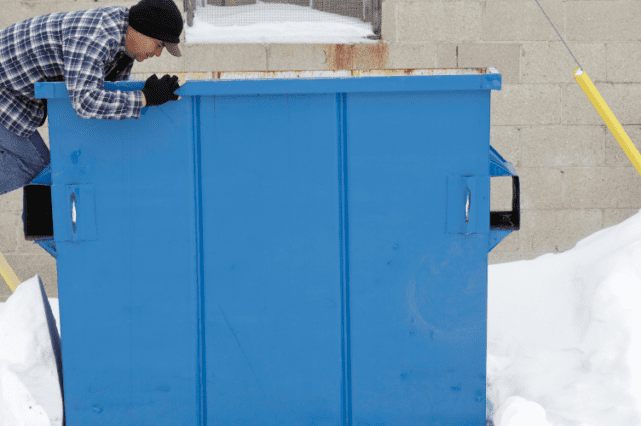 Guide to Renting A Dumpster during the Winter
Believe it or not, renting a dumpster during winter is a great option because there will be more sizes and availability for the dumpsters that you need. Summer is the peak time for roll-off dumpster services; therefore, if you are able to move a project to the colder season you will likely have no problems renting a dumpster.
Tips for renting a dumpster in the winter season
As we mentioned above, renting a dumpster in the winter season is a great option. Here are some tips and tricks that you can use when renting a roll off dumpster.
Avoid renting during winter storms (if possible)
If possible, try to rent a dumpster when there are no winter storms predicted in your area. A winter storm can delay a drop off and/or pick up of a dumpster and make it hazardous to work. Obviously, it is difficult to predict the weather (especially in Colorado). Therefore, we do our best to keep operations as normal as possible during the winter season.
Keep driveway and/or sidewalk clear
Another essential thing that you can do is keep your driveway or sidewalk clean from the snow that can make the dumpster slip, especially during drop-off and pick-up. Clearing the location that the dumpster will be in of snow and other debris keeps you, our drivers, and our dumpsters safe.
Have a tarp handy
When you rent a dumpster in the winter season, we understand that it can rain or snow anytime without any warning. If this happens it is a good idea to cover the dumpster with a tarp that prevents the snow from accumulating in the container. If too much liquid is caught in the dumpster it may exceed the weight limit. This may lead to additional fees.
Wear appropriate clothing
It is incredibly important to wear warm clothing when filling a dumpster during the winter months! The health and safety of our clients is number one, therefore we encourage everyone to dress appropriately when outside in the cold weather.
Salt rock to avoid slipping
Another tip is to apply salt rocks around rented dumpster. This will help prevent any slipping and injuries when filling the dumpster. This is especially important on the days where the temperatures will not go above freezing.
Why rent a dumpster in winter?
Availability of dumpsters
In the winter months most people will not be taking on renovation projects. This is the time for winter renters to jump in! A lower demand of dumpster rentals means that you will be able to find the perfect dumpster size for your project!
Perfect time for indoor projects
Being stuck inside during the cold months can be boring. Why not make some good out of it? Use this time to go through the attic or storage room. It can be invigorating and productive to work on some indoor projects that got put on the back burner during the summer months.
Get ahead
Another reason to rent a dumpster during the winter? Get ahead on those summer projects! Instead of waiting for the heat to arrive, use this time to get ahead of projects that most would wait for. This may include a garage clean out or yard work.
Renting a dumpster during winter is easy when you choose Blue Bear Waste! Call us today and get your dumpster rental scheduled for all of your winter projects!